Alumni Weekend 2018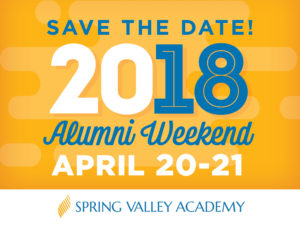 Each Spring, Spring Valley Academy welcomes back alumni of all ages to visit our campus and re-connect with old friends.
This school year alumni weekend will be held April 20-21, 2018. Honor years are classes 1973, 1978, 1983, 1988, 1993, 1998, 2003, 2008, and 2013.
We urge our alumni to come back year after year to reminisce and see how Spring Valley Academy is growing for the future.
Friday, April 20
8:00 am – Registration for 2018 SVA Golf Tournament Registration Form at Country Club of the North; shot gun start at 9:00 am, with a special lunch to follow, sponsored by the Kettering Health Network. This special outing will benefit the SVA Worthy Student Fund. For more information, contact Angie Peach 937-433-0790.
2018 SVA Golf Tournament Registration Form
7:00 pm – Vespers at SVA featuring the SVA Band and Choir, as well as a special presentation by the Kenya Mission Trip participants.
Pre-concert meal available at an additional cost. To reserve your spot, please call the SVA front office 937-433-0790.
Sabbath, April 21
9:00 am – Breakfast with Principal Darren Wilkins
10:30 am – Church featuring speaker Carl Wilkens and the SVA Band and Choir
Noon – Lunch in the cafeteria
2:00 pm – SVA Tour – join Principal Darren Wilkins as he leads a tour of the SVA facility, including the new Worship and Performing Arts Center, currently under construction.
9:00 pm – Alumni v. Varsity basketball game, SVA Gym
More information will follow. For questions about the weekend please contact Angie Peach at 937-433-0790.