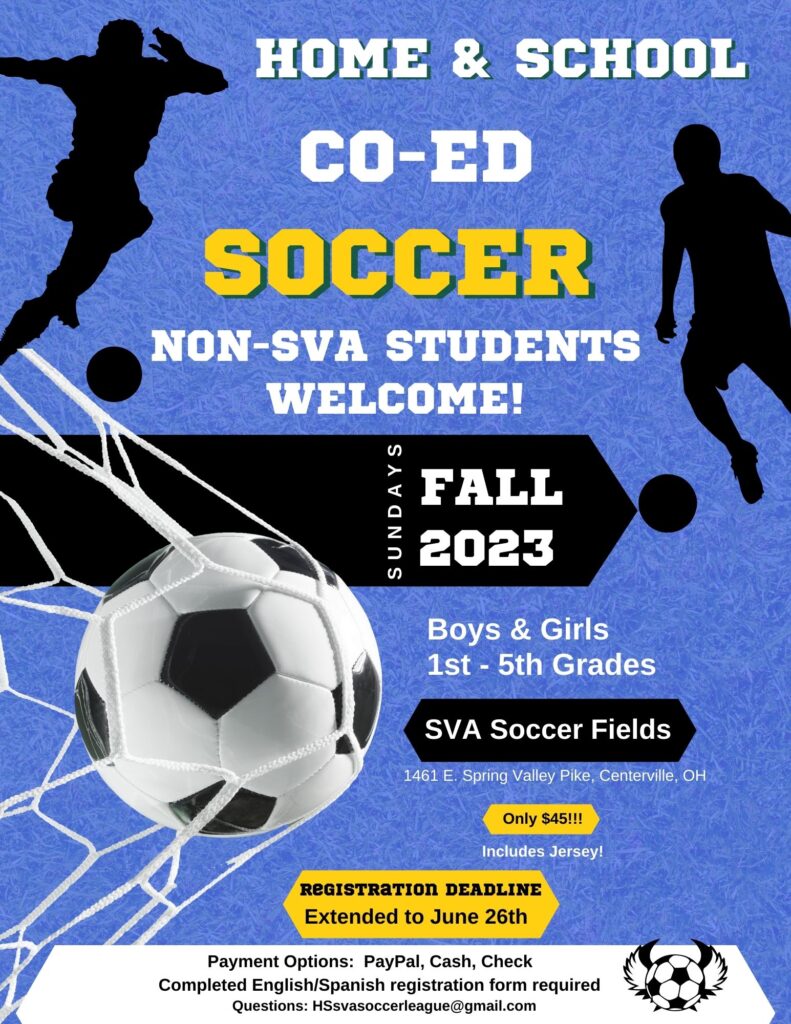 SVA Home and School is excited to bring a Christ-centered elementary soccer league to SVA for Fall 2023. The league will be for children entering grades 1-5.
Non-SVA students are also welcome to join.
Game times will be anywhere from 10 am to 1 pm. Each session will be 1 hour (30 minutes for practice followed by a 30-minute game) on the following Sundays:
August 27th
September 10th
September 24th
October 1st
October 8th
October 15th
Please download and complete the required forms below by June 26 with cash or check.
Make checks payable to Home & School with "Soccer" in memo. If paying by cash or check, drop it off along with your registration form to the SVA Main Office (Summer Hours 9AM – 12PM), or mail to Spring Valley Academy, Home & School, 1461 E. Spring Valley Pike, Centerville, Ohio 45458.
**Payments can also be made through PayPal (HSsvasoccerleague@gmail.com) by choosing "Friends and Family" and completed registration forms emailed to HSsvasoccerleague@gmail.com. https://www.paypal.com/us/signin
Your registration must be completed and payment made by June 26 to ensure players have jerseys on the first game day.
If you have any questions, please contact us at HSsvasoccerleague@gmail.com.